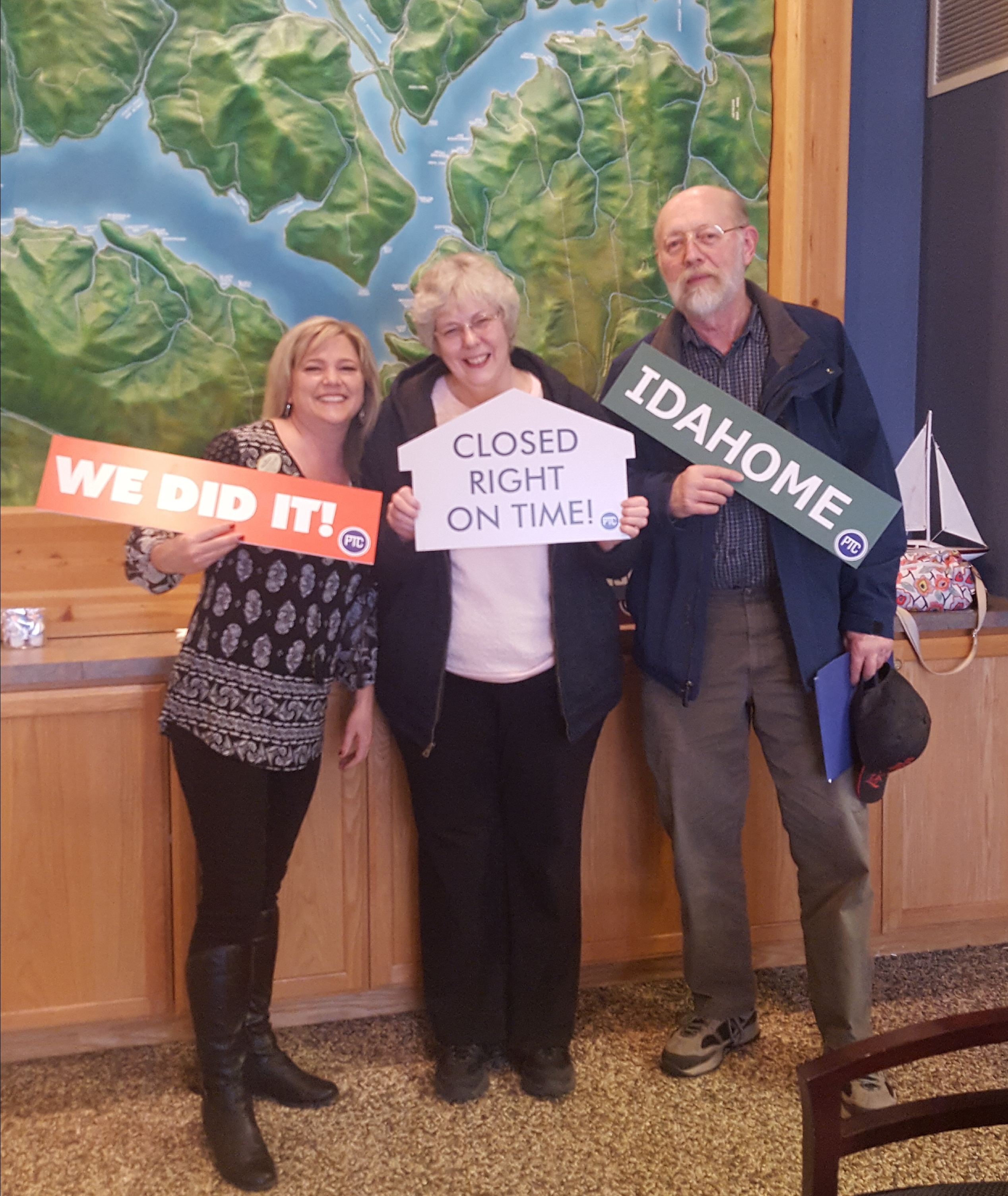 Moving after 31 years!
We are an older couple who found ourselves moving, after 31 years, to a new home in a different state. We met Angela at an Open House and found her to be so friendly and joyful. She listened diligently and began to make us feel comfortable and to look ahead with anticipation. She worked tirelessly to find us a home that met our needs, keeping us informed every step of the way. We were treated with respect and much care and are thrilled to call her our Realtor, but most of all our friend. We recommend Angela highly to anyone who needs to find a new home. She goes above and beyond in all she does for her clients, her friends. Thank you and God bless you Angela, as we could never have done this without you!
~ Russ & Tricia Huneywell
Found the perfect home!
Thank you so much for all of the time and hard work you put into helping us find our home. We're especially thankful for the extra time you took showing us house after house as we searched for that perfect fit. We're getting all settled in and as everything is finding its place it's fitting us even better every day. We couldn't have done it without you!
Thank you so much,
Ryan and Sarah Lane
Professionalism and follow-up
We worked with Angela in purchasing our home. We were extremely pleased with her professionalism and continued detailed follow up prior to the purchase and following the sale. We would not hesitate to recommend Angela to anyone in search of an agent, she was the best.

Ellie and Jack Harschfeld
Diligence at work for you
After some time to reflect on our recent search in the housing market, I wanted to take this opportunity to give raving reviews for our amazing Windermere agent, Angela Brooke. With fairly large search parameters, trying to appease me, my husband Casey & our 17 yo daughter Amelie, she found plenty properties that fit our requests. We all learned what was most important to us in our new home-2 story construction with gourmet kitchen and fenced back yard for our dog, Ozzie. Some houses were a "No" without a viewing, others were "No" after the viewing-still Angela would be encouraging and remind us our house was out there, we just hadn't found it yet. She was gracious & generous with her time-like the afternoon a listing we just had to see was available to view before her lasagna was done cooking, so she turned off the oven and met us at the property. She made it seem like no big deal, but, to us, every little thing Angela did to help us get closer to finding our home was very much appreciated and was a very big deal. At times, weary from the searching, she'd offer to sit and enjoy a cup of coffee with me and look up listings on her computer. As time went on, she never tired in her efforts to search new neighborhoods and, gratefully, new construction. That's when all the boxes, so to speak, got checked. A floor plan for 2-story, great working gourmet kitchen and ability to add our own choice for appliances, Angela hit the mother lode!! We all agreed as a family to end the search. Now, we just had to wait out the building time for construction to be completed before we moved into our new home. Angela was right there with us, all the way through the building process, available for any questions or concerns. She did it!!! As we enjoy our home, the memories of our experience with Angela making it happen for us, we are forever grateful to her for caring so much over every detail. Angela has a vivacious disposition and a "can do" attitude that's warm and inviting making it so very pleasing to search through the many listings. I hope to spend many happy years in our home, but I would gladly have Angela for the next home search when the time comes.
~Casey & Connie Johnson
Went Above and Beyond
I worked with Angela recently to sell my house. I would highly recommend Angela to all friends and family during the buying/selling process! She made this very confusing process so easy and seamless. She even went above and beyond by buying items to stage my house to get my house ready for showings (which pretty much sold the house). Angela will exceed your expectations!
-Cristen S.
True professional
Steve and I wanted to thank you for doing such a great job in selling our home. From the amazing photographs and DRONE videos to the negotiations with the buyer, you were a fantastic partner during a life-changing situation. It was evident that you had our best interests in mind, you were able to answer all our questions and concerns in a timely and honest manner and were able to accommodate changes quickly. You are a true professional and thanks to you we found the perfect buyer in record time and closed on the sale without any issues. We look forward to working with you on all our future real estate transactions!

Dina & Steve West
First time home buyer
"If you are looking for a house you could use any old realtor, however if you are looking for a HOME, you need to give Angela Brooke a call. Honestly, there is no other realtor out there with the heart, tenacity, and intellect. From the second you give her a call, she becomes not only your realtor but an irreplaceable asset that you need when navigating the world of home buying. To be perfectly candid, we weren't living in the most ideal living situation in Washington. After almost ten years we finally made the plunge to house hunt here in Idaho. My wife went to college at the University of Idaho and had spent years in Fernwood with her mother. It just made sense to her. I on the other hand was born and raised outside Seattle and have lived in Washington State my whole life. While I wanted to get out of Washington I was worried about finding the right house in our price range. This is where Angela shines, she finds you a HOME. She took us on video tours of houses, always gave us her honest opinion, and above all else put us first every single time. She cried with us when we lost houses we really wanted and celebrated harder than anyone else when we finally found our perfect home. And let me tell you, our home is perfect. Our daughters have the space they need, and we have the peace we have desperately craved for almost a decade. Angela made our home buying experience a great one. She's even looking out for property for my mother when she decides to retire. You can't call anyone else. She's it. If you need further proof, our daughters call her Aunt Angela. I mean, come on! " Benjamin White